MT-501 Vacuum Cleaner
Make your life so much easier.
Use coupon code robot to get 20% exclusive off

Equipped with a new generation of gyroscopes, can optimize coverage, clean the entire house.
It automatically detects obstacles and cleans them, while avoiding collisions with furniture. You can make it easy to clean.

Including Wi-Fi connection, can be used with Alexa, application control, Voice control
Excellent cleaning effect

Robots Vacuum cleaners have reached the same level of effectiveness and power as conventional vacuum cleaners
You can set up your MT-501 to clean your home every day of the week if you like and they will efficiently go about their business saving you the hard work. Families with working parents often hire a cleaner to do their vacuuming, however a Robot vacuum cleaner offers the potential to save money by removing one of the cleaner's tasks.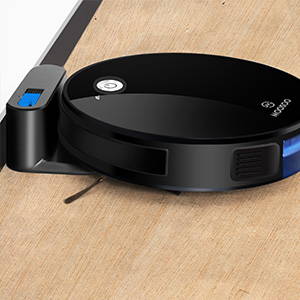 When MT-501 finishes its cleaning or the battery is low, it will automatically return to the charging dock to prepare for its next cleaning task.Note: If doesn't finish the cleaning task, it will automatically return to the original position to continue cleaning after charging.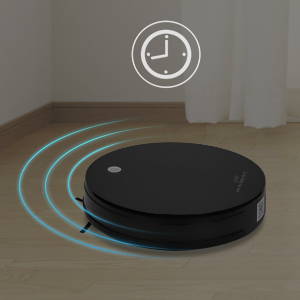 Schedule cleanings from the SMART LIFE app anytime and anywhere. MT-501 will make an thorough and all-around cleaning, offers you a comfortable and clean home. You can feel free to enjoy your daily activities.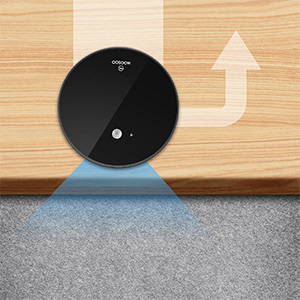 With Drop-Sensing Technology, MT-501 uses advanced sensors. It can avoid falling down stairs and off of ledges, you don't have to worry about drop down when it makes cleaning.

MT-501 has 3 suction levels (MAX / Medium / Low), you can set the suction you need. It can run up to 100 minutes(tested on floor) before automatically docking & recharging.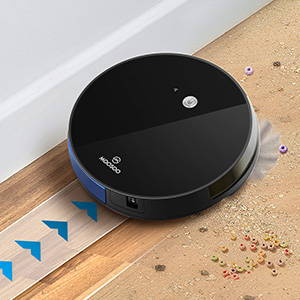 MOOSOO slim robot vacuum is ideal for hardwood floor carpet. The two side brushes are specially designed at a 27-degree angle to sweep debris away from edges and corners.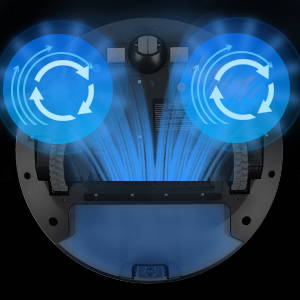 Cyclone 3D Cleaning System
It can help you clean all kinds of corners, all kinds of sofa gaps, under the bed, under the sofa, etc.

Product Dimensions 12.6 x 12.6 x 3 inches

Battery 3 Lithium Metal batteries required. (included)
Floor compatibility Hard floors, low and medium pile carpet
Accessories - MT-501 vacuum robot x1
- remote control
- charging base
- AC power adapter
- cleaning tool
- extra set of high-performance filters
- side brushes