Lightweight Vacuum Cleaner
The benefits of a lightweight vacuum cleaner are obvious but have you ever thought about the difference it can really make and the types of jobs it can make easier? In this article, we take a look at the benefits of a lightweight vacuum cleaner and determine which one might be ideal for you.
Do you need the best vacuum cleaner? If you want to make household chores easier. The best vacuum cleaner will be strong enough to quickly pick up dust, dirt, and other debris from carpets and hard floors. It should also be easy to move around corners and upstairs, so it should be light.
But there are so many different kinds of vacuum cleaners on the market. It can be hard to choose the best one for your home. Do you want or do not want a cord? Or maybe a 2-in-1 upright cleaner turned into a handheld cleaner would be best for these smaller jobs. If you want to take it easy, you can let a robot vacuum that cleans itself do all the work.
Why Should We Pick a Lightweight Vacuum Cleaner?
The best lightweight vacuum cleaner is easy to use and strong enough to clean your home daily. You might want to think about getting a handheld or backpack vacuum. There are also cordless vacuums and vacuums with long cords that can clean the whole room. Some vacuums are used to clean floors that are not made of carpet.
When making your choice, you want a lightweight vacuum with the same power as a regular vacuum. After using the vacuum once, the vacuum should be strong enough to remove lint, dust, and debris. You need to check the vacuum cleaner in the store.
Factors Influencing the Weight of a Vacuum Cleaner
The vacuum cleaner's weight is an important measurement that directly affects how comfortable it is to use. Different mainstream vacuum systems have the handle in many places because they have different centers of gravity, which directly affect body weight.
Body weight is also affected by the vehicle's material, battery, size, number of motors, bag or tank size, charging location, airflow, etc.
You should replace the battery in your cordless vacuum cleaner if you want to extend its battery life. One battery has a capacity of 2200 mAh or approximately 0.098lbs Under typical circumstances, the vacuum cleaner can operate in low mode for 5-7 minutes on a single battery. To ensure the vacuum cleaner's operation period 'in low mode' survives roughly 30 minutes, use 5-8 battery packs weighing 0.489-0.785lbs in total. As a result, the quantity of batteries impacts both the weight of the vacuum and the amount of time it can run on a single set of batteries.
Most ABS plastics are made of acrylonitrile, butadiene, and styrene, which are combined to make a thermoplastic that is hard and rigid. Small home appliances are often made of them because they are easy to shape and shine. Even though most things made of ABS plastic are light, the unique design of each vacuum cleaner includes steel, iron, metal, and other best materials, which make the best weightier overall.
The size of the dust bin should depend on what the lightweight vacuum cleaner is best for and where we can use it. If you want to clean an office, you should get an expensive vacuum with a large dust bin. On the other hand, a car wash vacuum has a smaller Bin and costs less because of this.
You can put sticks in the bag from the top or the bottom. With the bottom filling, the vacuum has to push all the dirt into the bag to get more. The padding on top lets it fall. The stuffing on top is the best. The engine has to work harder when the load is too low.
An upright vacuum can have one motor that runs both the vacuum and the Brush, or it can have two motors, one for the vacuum and one for the Brush. Usually, you will need a lift with two motors
If the bag gets full fast, it needs to be changed more often. Remember that the vacuum won't work as well if the bag is full. Change your bags often to get the most out of them.
It will be measured in cubic feet (or centimeters) per minute. More airflow, the better. Airflow makes the soil rise in the bag or container.
What Exactly are the MOOSOO Lightweight Vacuum Cleaners?
Can you suggest a MOOSOO brand vacuum cleaner that is light and easy to carry? Of course, MOOSOO vacuum cleaners pay a lot of attention to their cheapness. We promise not to hurt your wallet or your arms while providing high-quality products that improve the lives of our customers at the lowest possible cost. What is MOOSOO Handheld Vacuum Cleaner? Cheers! The answer is on the way (see below).
MOOSOO K17G Cordless Lightweight Vacuum Cleaner
Don't want the heavy vacuum? Okay, let me introduce you to the K17, our best-selling portable vacuum. Strong brushless motor, 200W high-power super suction (about 23KPA), detachable battery, 6*2200mAh lithium batteries, battery life up to 30 minutes. The unlimited wireless, clean every corner as needed. Additionally, this floor brush has LED lights, which is better because it allows you to see the dust on the floor while cleaning dark spots. The machine's weight of 2.83lbs which equals three 16-ounce bottles of Poland Spring mineral water. This is what matters most. Look! It is lightweight! You may clean it wherever you choose, and of course, you can take it on vacation with you.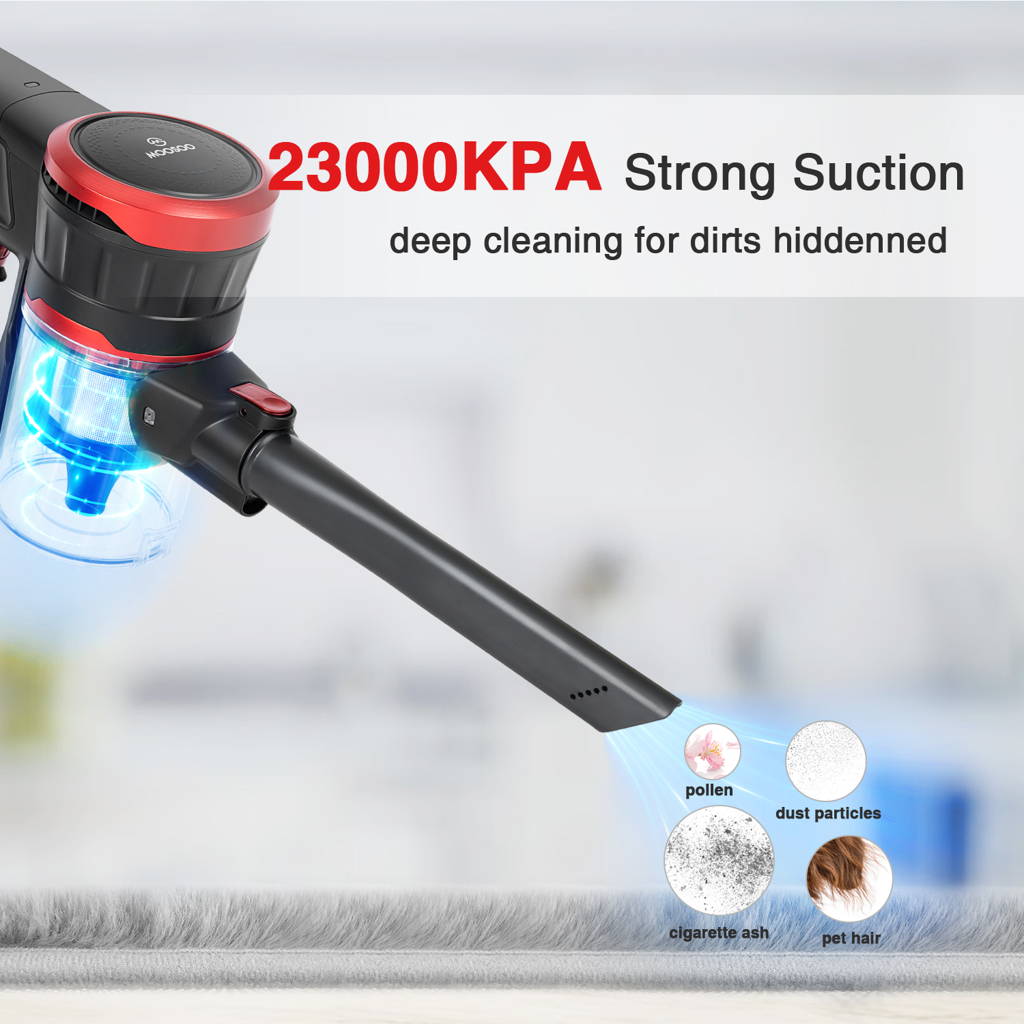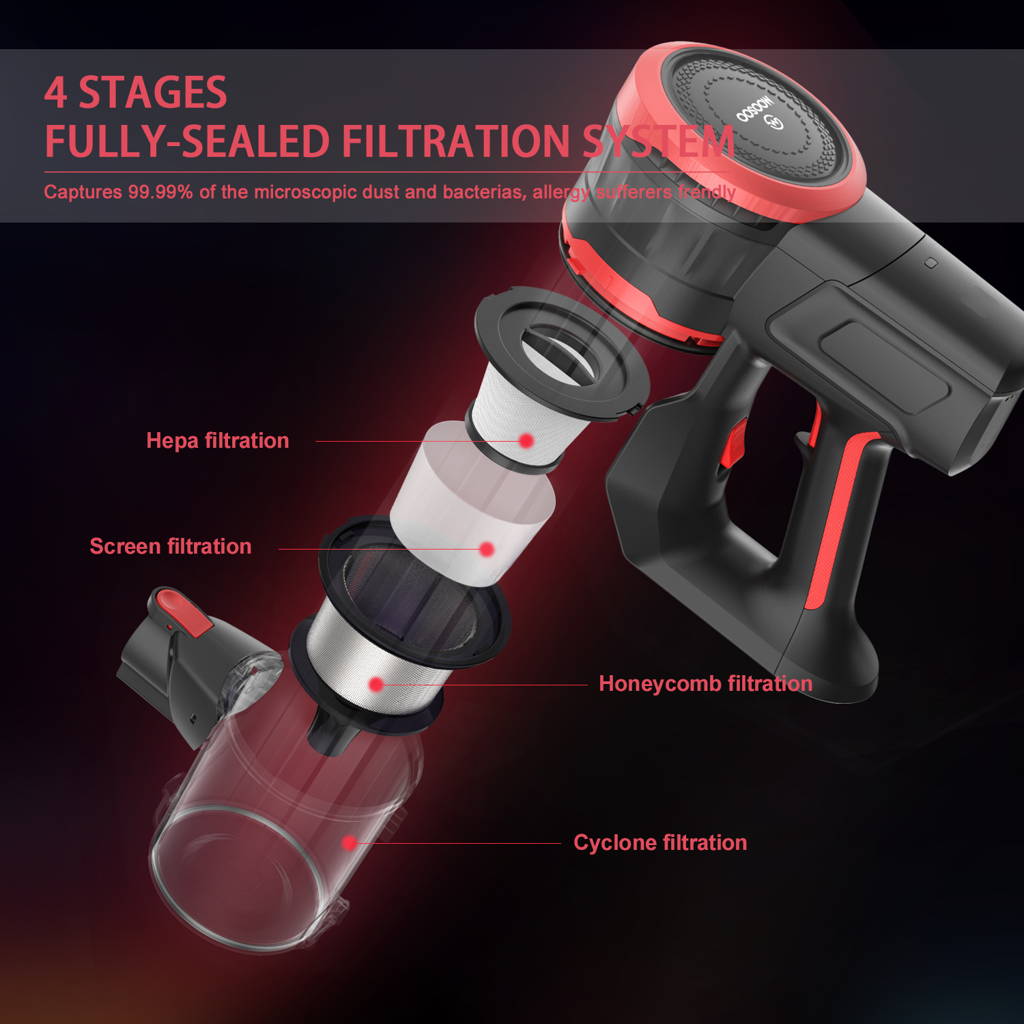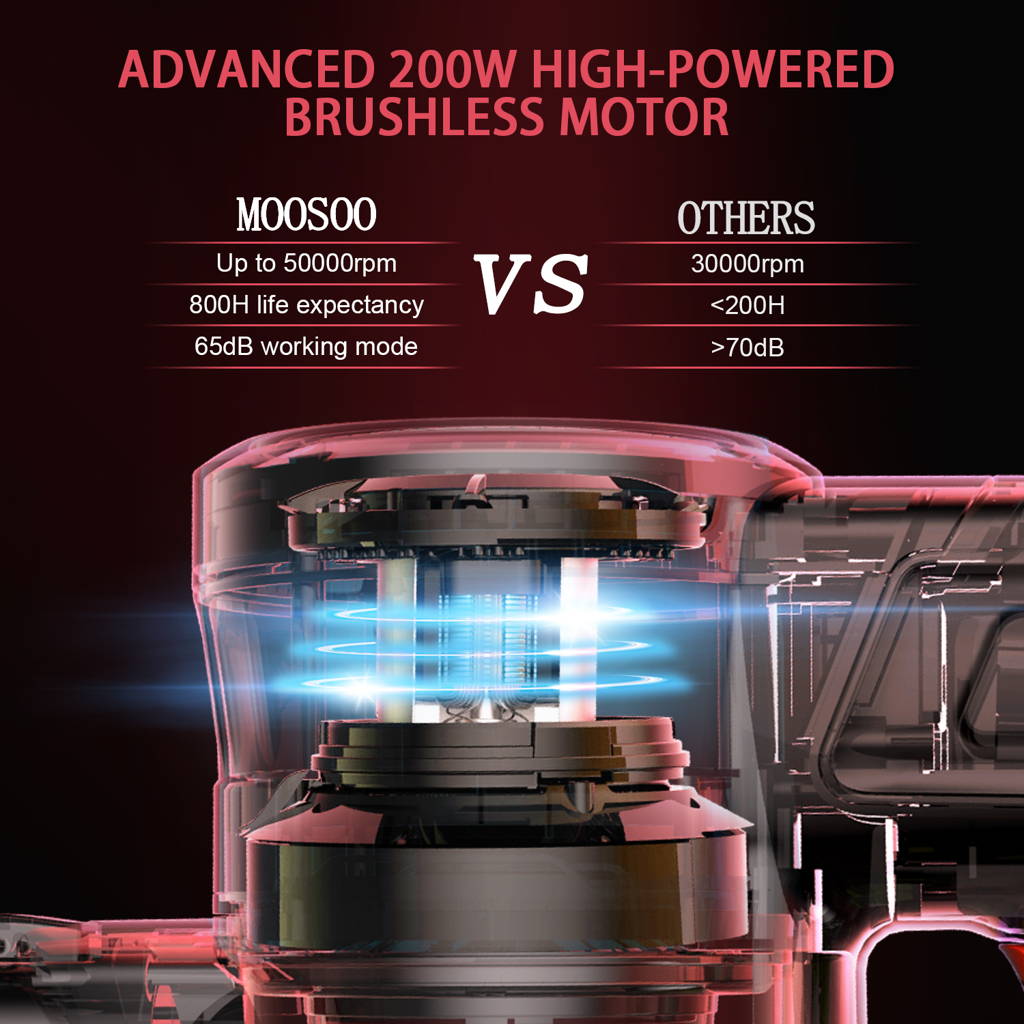 MOOSOO LT450 Corded Lightweight Vacuum Cleaner
The LT450 corded vacuum cleaner is also our lightest item, weighing only 3.97lbs. Because the main motor is in the middle, the arm doesn't have to carry as much weight. To do chores and clean, you only need your hands.
The 0.8L dust cup capacity is enough to get rid of all the trash in the room at once. It has a high power of 450W, a strong suction of 15Kpa, and an extra-long power cord of 5m.
It keeps your home and car clean, and when you take off the handlebar, it turns into a car lightweight vacuum cleaner in seconds!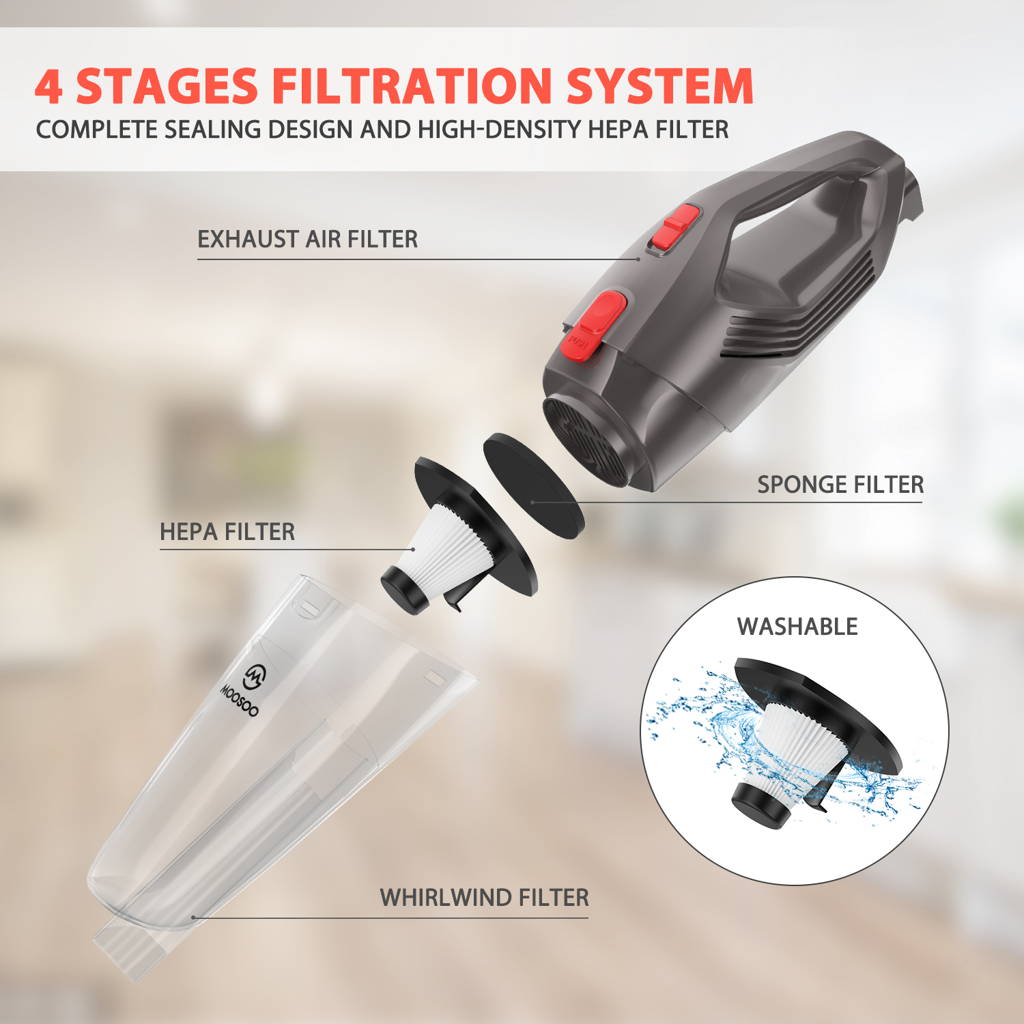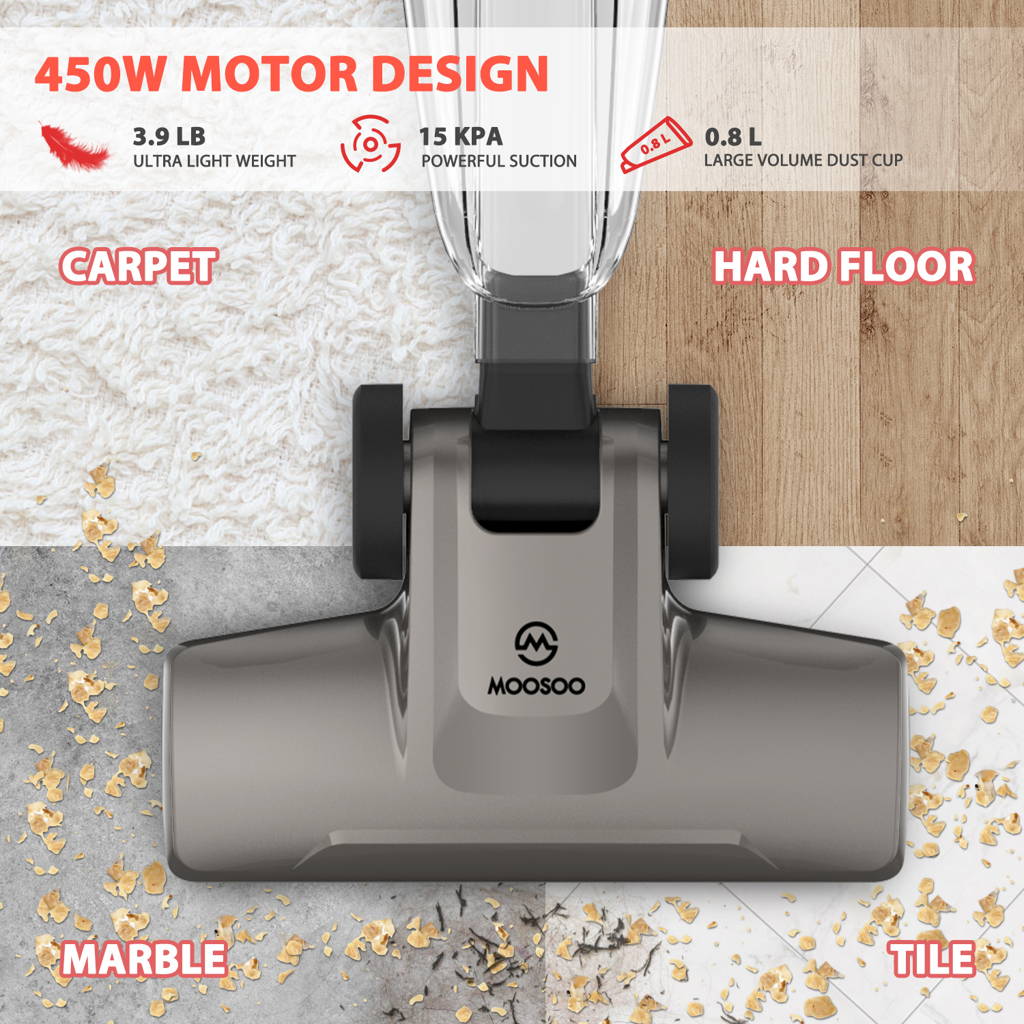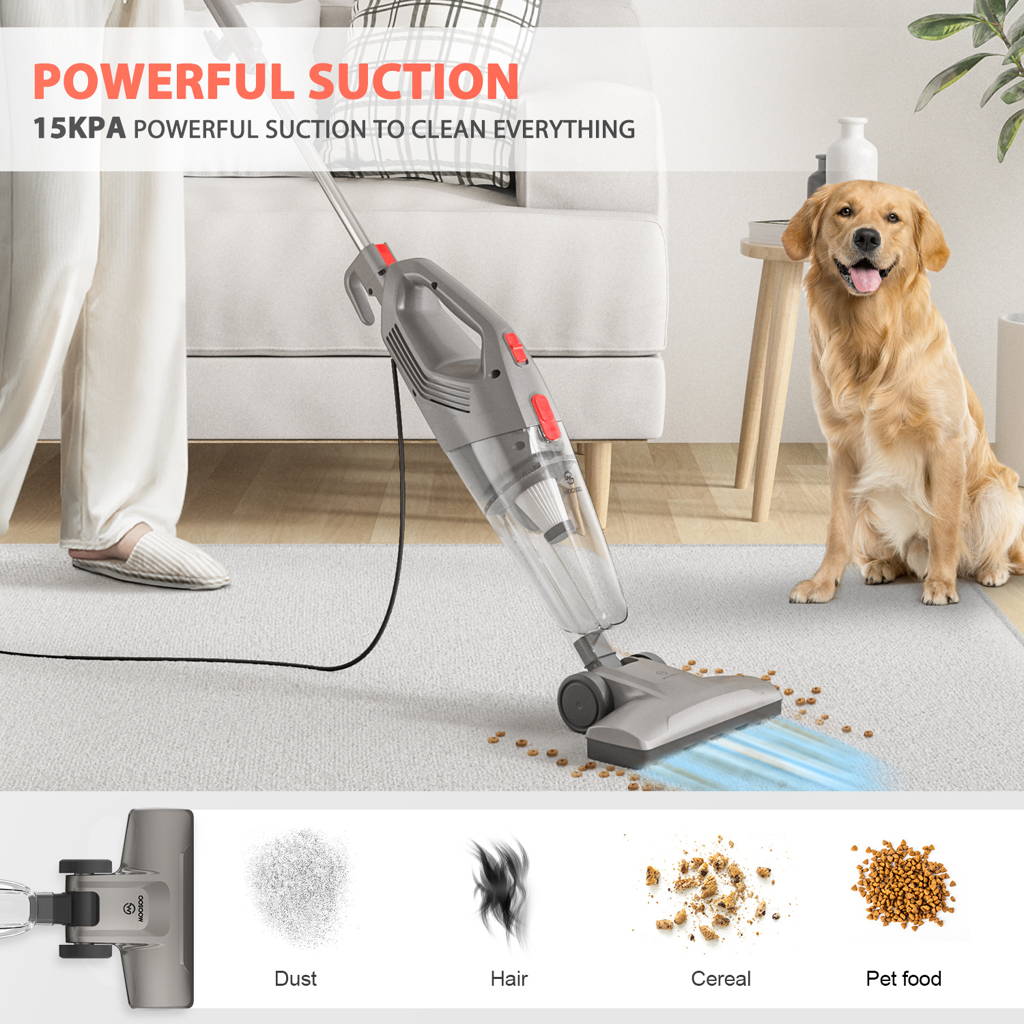 MOOSOO D600 Corded Lightweight Vacuum Cleaner
Do you prefer a lightweight corded vacuum cleaner over a cordless one? No problem. MOOSOO is a strong sorcerer who can make all your wishes come true.
Versatile: Switch quickly to handheld mode to use it with one hand.

Strong Suction 17KPA: Pick up all the trash on the ground and deep-rooted dirt particles, like cat litter, dog food crumbs, and pet hair. Perfect for floors made of marble, tile, or wood.

Advanced 4-Stage Filtration System: It has sponge filtration, high-efficiency filtration, cyclone filtration, and cylinder filtration. It gives users the cleanest air possible and a great cleaning experience. It can also get rid of 99.99 percent of dust and bacteria that are smaller than human hair.

Very Lightweight: This only weighs 4.41 lbs and is easy to use with one hand. It can be used to clean both low and high places. Attach the cleaning brush and crevice nozzle to the two-in-one wand vacuum, which can easily switch to handheld mode.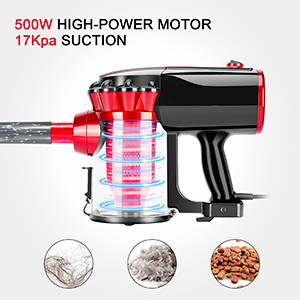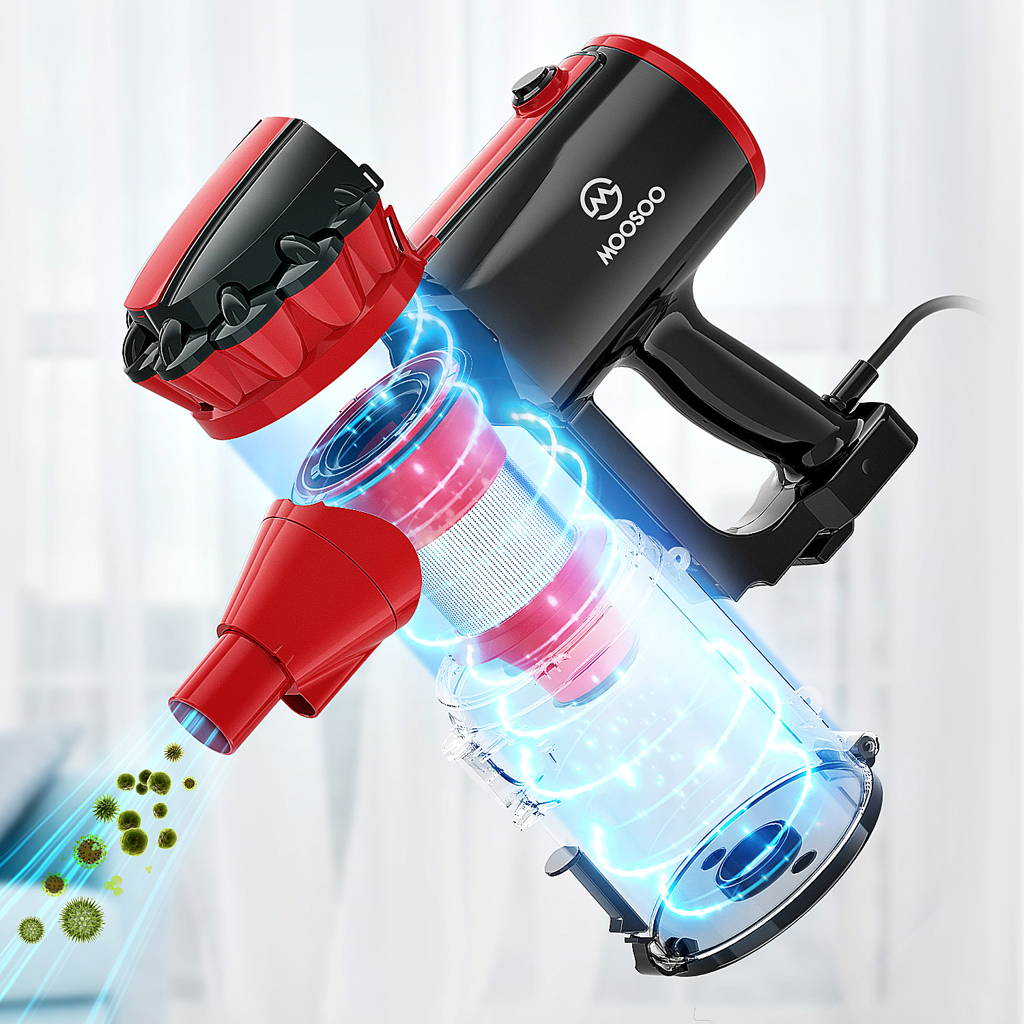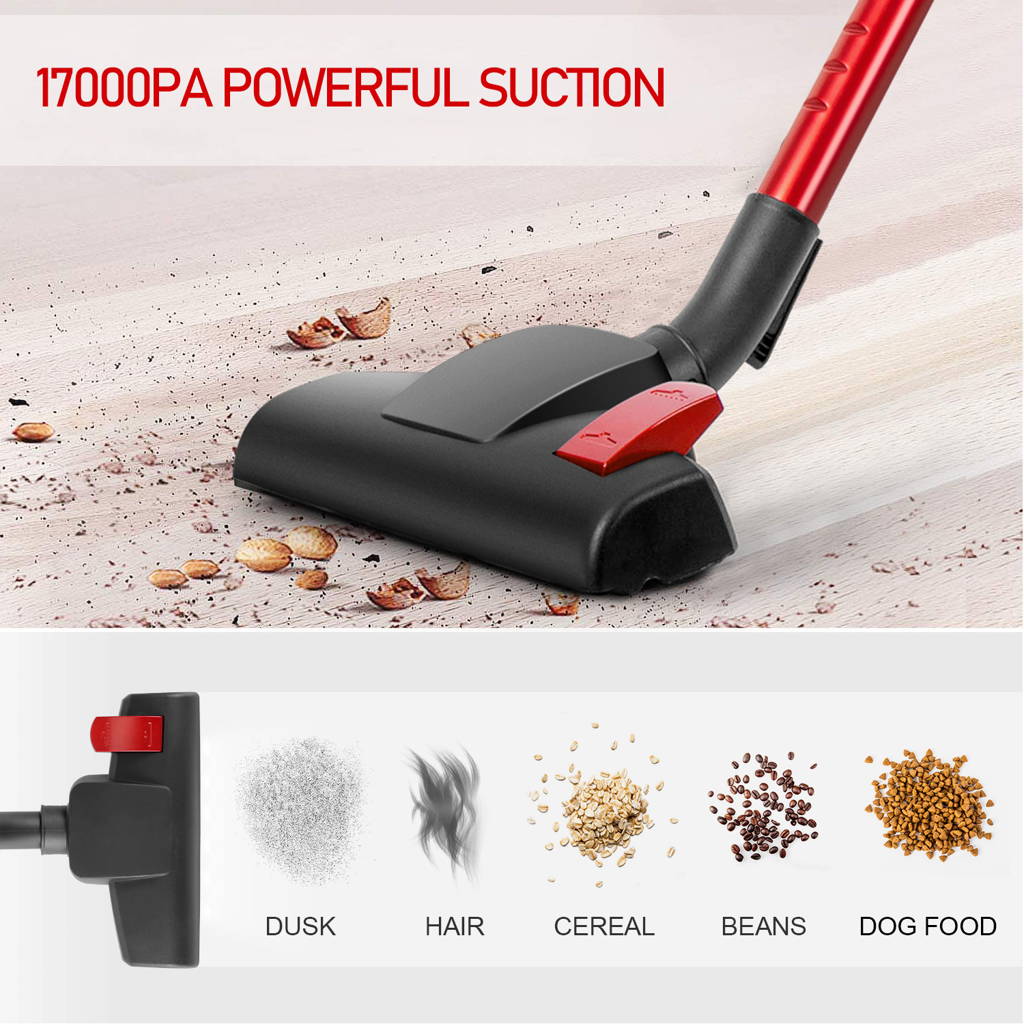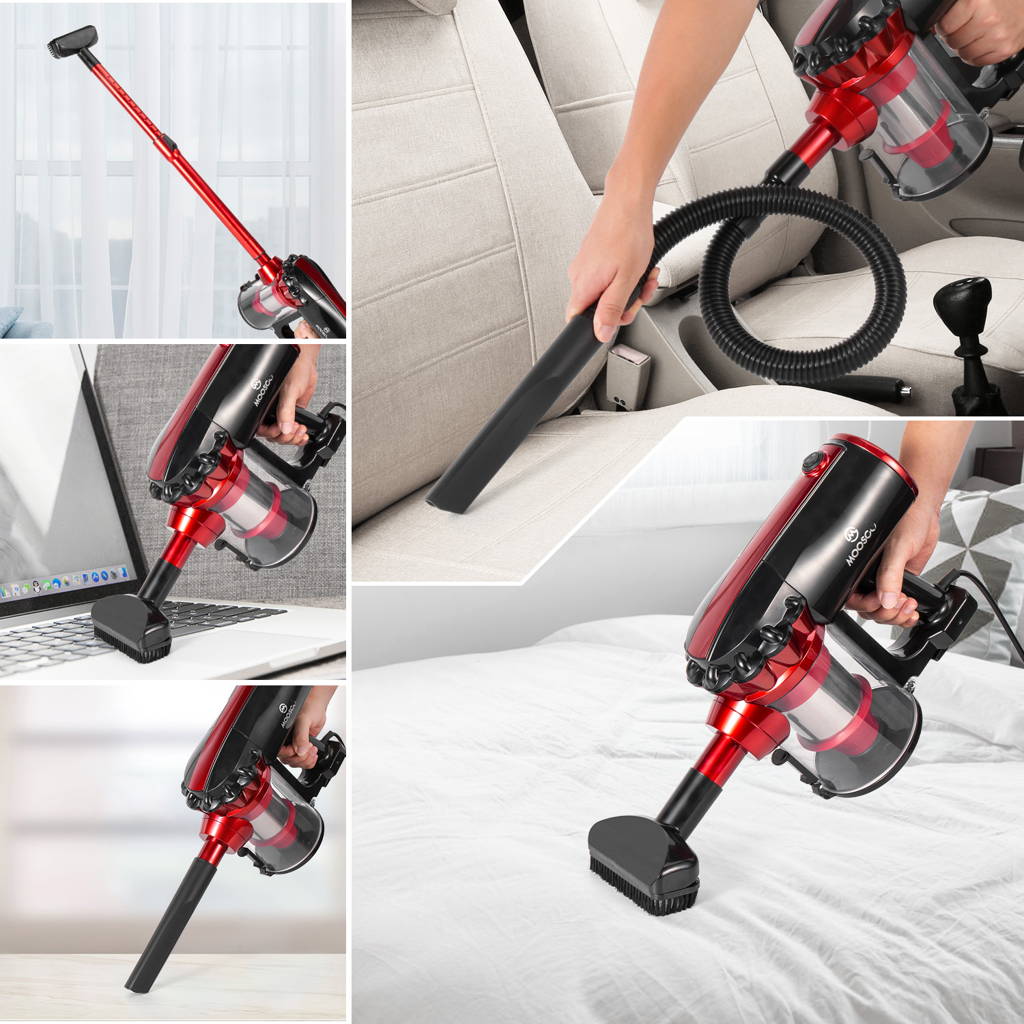 MOOSOO K17-PRO Cordless Lightweight Vacuum Cleaner
We have the vacuum, extension wand, crevice tool with LED light, a motorized mini tool, extension hose, 2-in-1 brush, motorized LED floor head, wall bracket, and power adapter. The floor brush I use to clean hard floors and carpets, the mini power tools I use to clean my mattress and furniture, and the brush extension hose I use to clean the car are the tools.
If you want a cordless vacuum cleaner with strong suction and long battery life, the MOOSOO K17 PRO is the best choice. Not believing? Let me show you how appealing the K17PRO is.
Strong suction will prevent dust from finding a way out. The 24 KPA suction of this vacuum cleaner makes it easy to pick up dust, hair, and other small particles.

Long battery life makes it easy to clean large areas. The battery pack has a 35-minute run time and is made up of six batteries.

It doesn't have a cord, it's light, and it's easy to use. Get rid of the cables, stop getting sore arms, and use with just one click. It is the best choice for lightweight vacuum cleaner.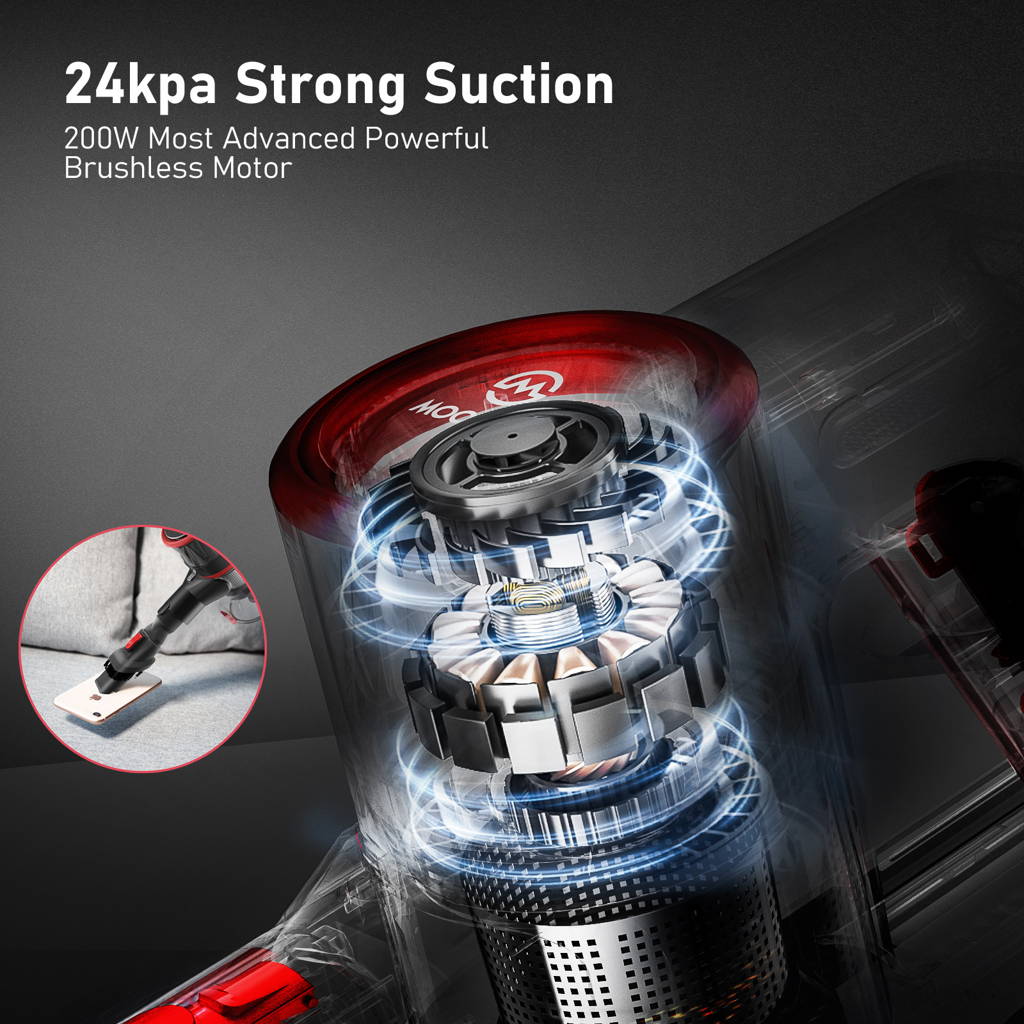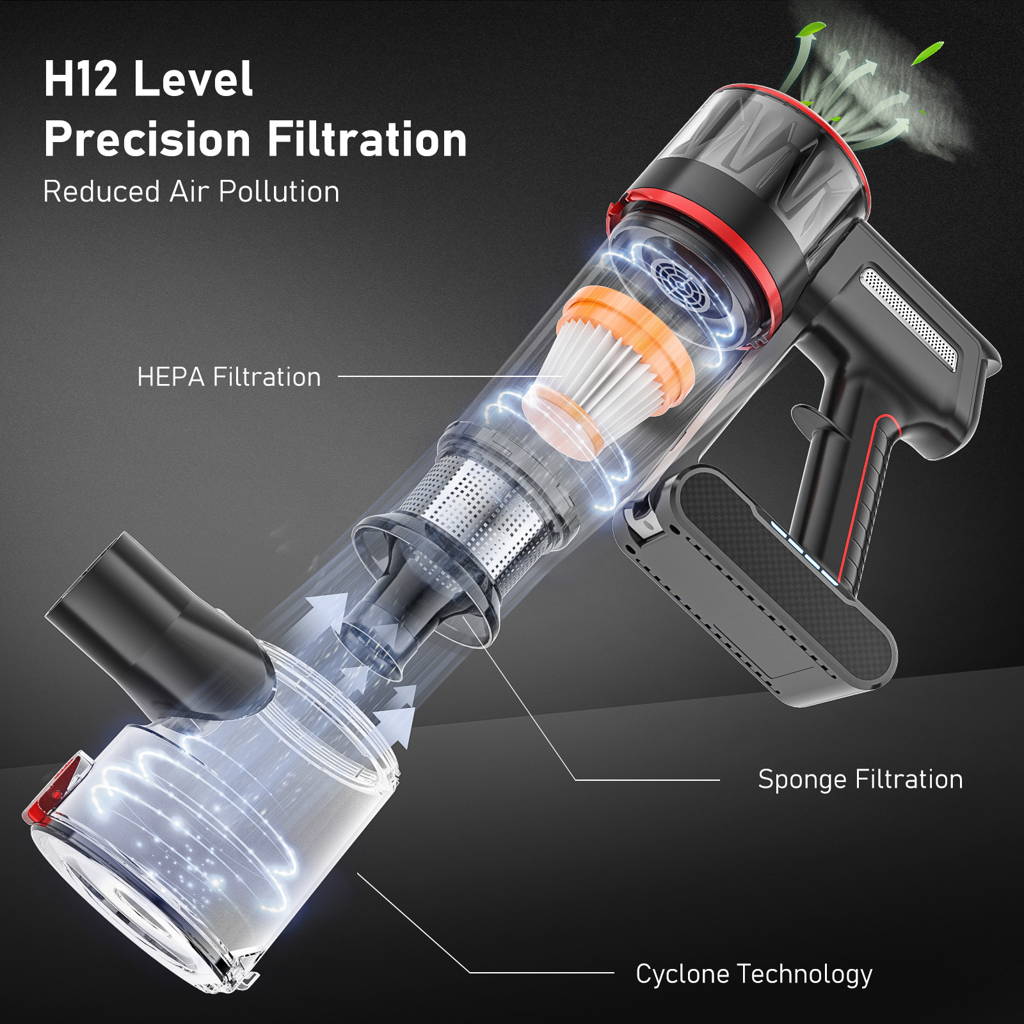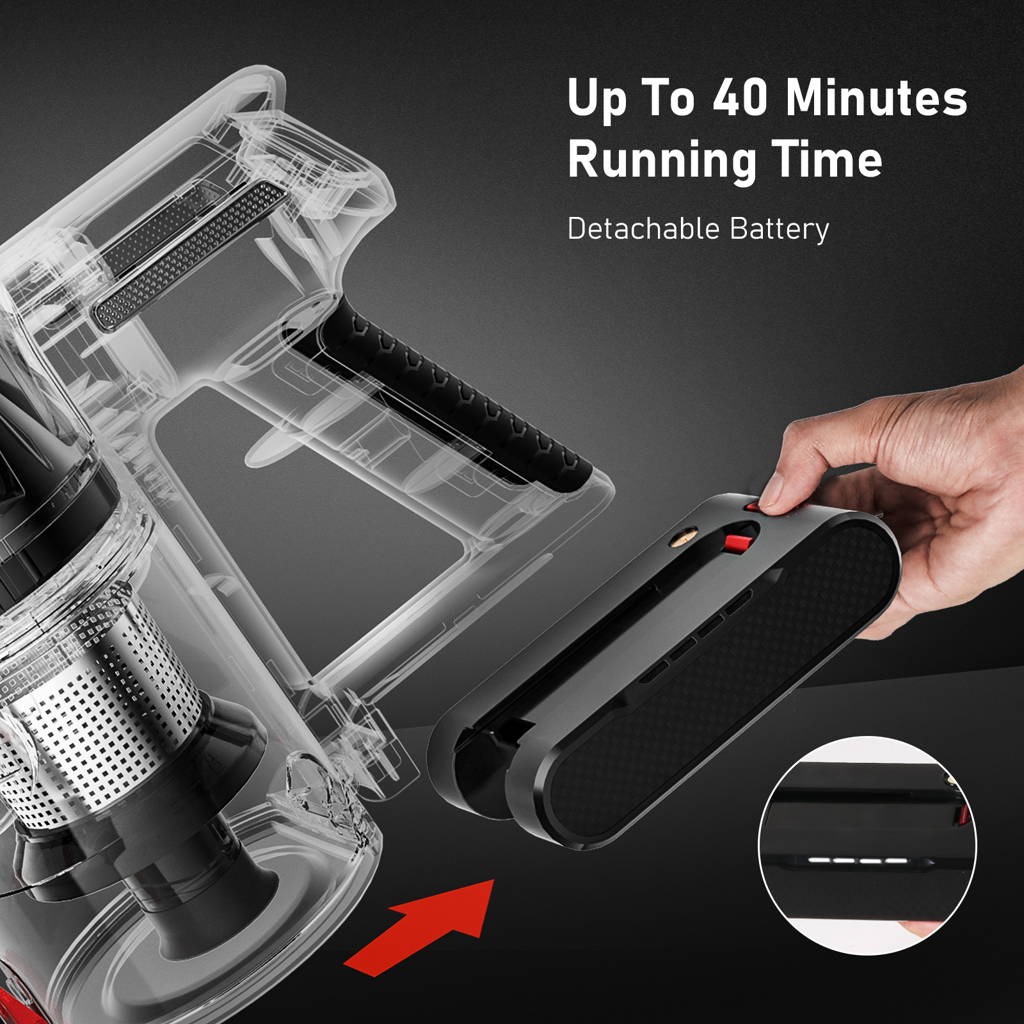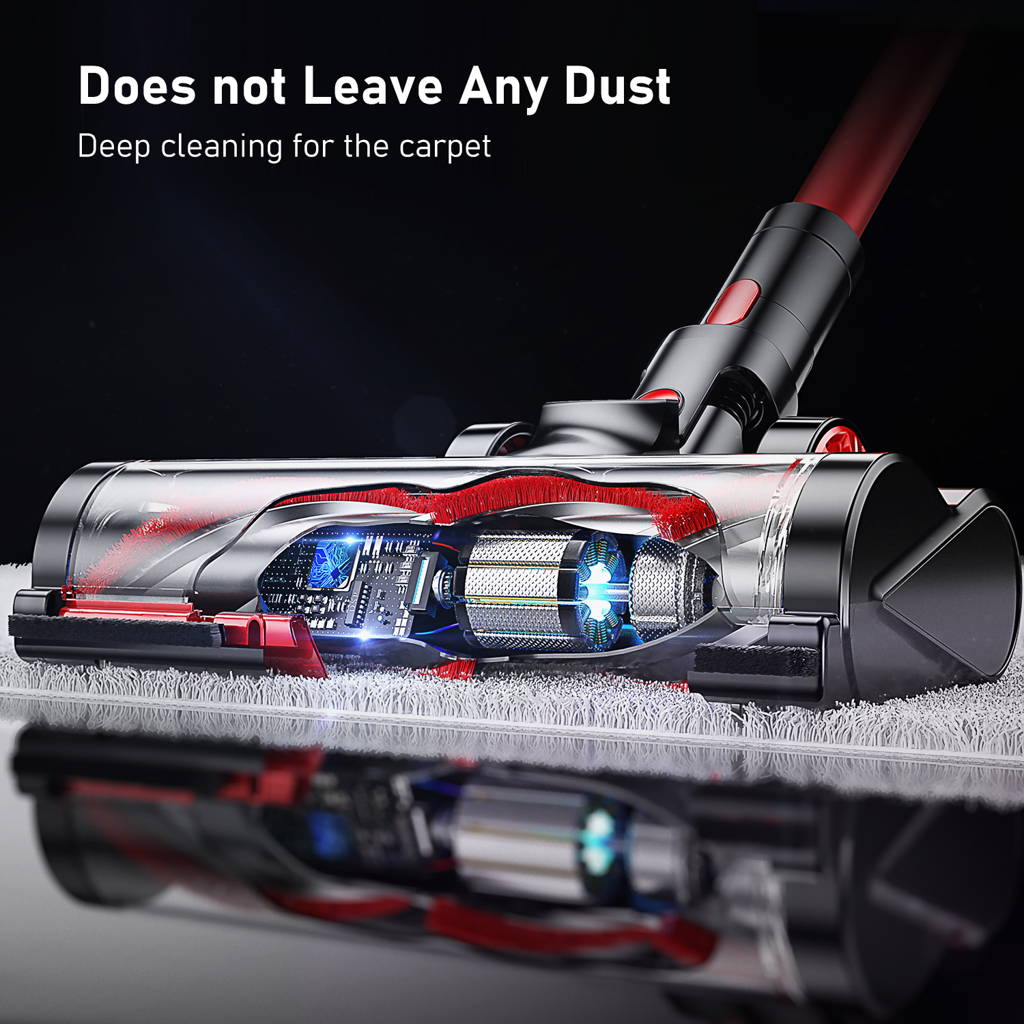 📢MOOSOO "Back-To-School" 25% OFF is on its way!
☞ Every home that needs to be cleaned should have a vacuum cleaner. These handy household tools can get rid of dirt and dust, making it easier to clean floors and less likely that someone will get allergies. But there are bad things that come from using vacuum cleaners. Now that you know the good and bad things about vacuum cleaners, you can decide if you want to buy one for your home or not. You can save money by taking part in MOOSOO's Back-to-School Season. MOOSOO offers 25% OFF, Free Shipping on orders over $60, 1-Year Warranty, Free Warranty Accessories, and 24h*7 days Online Customer Service available.
Sunday,Monday,Tuesday,Wednesday,Thursday,Friday,Saturday
January,February,March,April,May,June,July,August,September,October,November,December
Not enough items available. Only [max] left.
Browse Wishlist
Remove Wishlist